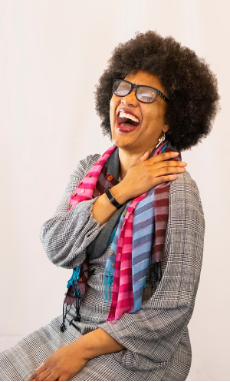 Dr. Kandace Hinton resides in Terre Haute, Indiana but is a native of Evansville. 
She has served as Minister of Music at New Hope Baptist Church in Evansville and Messiah Baptist Church in Indianapolis. Dr. Hinton's music résumé is full of accomplishments ranging from co-choral director of the Evansville Philharmonic Gospel Night production, Joshua Academy's Gospel Night, director of Evansville's city-wide Black History Month Musical Celebration and guest clinician for church choir workshops. Dr. Hinton is the founder of the former New Hope Music Academy, which offered piano, percussion, voice, dance, and drama classes to youth of the center city of Evansville. She has served as a member of New Beginnings Fellowship Church of Indianapolis Worship and Arts Ministry in the capacity of a worship leader and choral director of Psalms of Judah choir as well as the Praise and Worship Team. Her musical talents have also allowed her to record lead and background vocals for several groups and choirs, including with her sister Kimberly Hinton (CD entitled, "Kim & Him" which she was the executive producer). Furthermore, she is often called on to minister the spoken Word of God at churches and conferences throughout the Midwest region.
In addition to using her gifts in the church, Dr. Hinton uses theatrical expression as an outlet when time permits. In Evansville, Kandace performed in several locally produced plays and musicals such as, The Wiz, Arms a Boxin' (an adaptation of Your Arms are too Short to Box with God), Amen Corner, A Fly in the Coffin, Glory Train, Just an Old Story with Hope Theater, Inc., and the hit stage musical Ain't Misbehavin' at the Community Theatre of Terre Haute.
Kandace is a Professor in the Educational Leadership Department's Higher Education Leadership Program at Indiana State University. She holds a master's and Ph.D. in Higher Education Administration from Indiana University, Bloomington and a Bachelor of Arts degree from Jackson State University, Jackson, Mississippi. She has been a visiting assistant professor at Indiana University-Indianapolis and The Ohio State University.
Dr. Hinton is a committed Christian who loves God and His church. She works tirelessly to "lift high His Royal Banner" and to move God's people toward a more excellent way. Her favorite scripture is "Trust in the Lord with all thine heart and lean not unto your own understanding. In all thy ways acknowledge Him and He will direct your path" (Proverbs 3:5-6).